Logitech Group Video Conferencing System adalah solusi terbaik untuk kamu yang membutuhkan perangkat video conference diruangan sedang hingga besar dan kapasitas orangnnya hingga 14 orang.
Jadi perangkat Logitech Group Video Conferencing System ini didesain untuk bisa menggelar meeting online hingga 14 orang didalam ruangannya. Mikrofon ekstensi opsional memungkinkan Anda bisa berkolaborasi pada Meeting dengan kapasitas peserta hingga 20 orang*. Perangkat webcam ini sangat mudah untuk digunakan, konektivitas plug-and-play memungkinkan alat ini bisa langsung digunakan setelah dihubungkan ke Laptop.
Perangkat Video Conference Logitech Group ini sudah didukung dengan fitur terbaik untuk bisa menghasilkan suara yang jernih dan natural, seperti :
Acoustic Echo Cancellation
Teknologi Noise Reduction
Kontrol intuitif
Spesifikasi Logitech Group Video Conferencing System
Berikut ini adalah spesifikasi Logitech Group Video Conferencing System
Kamera :
Full HD 1080p 30fps
Autofocus
5 preset kamera
10x lossless HD zoom
Fungsi pan (geser) 260, tilt (miring) 130
H.264 UVC 1.5 dengan Scalable Video Coding (SVC)
LED untuk mengonfirmasikan streaming video
Kensington security slot
Ulir tripod standar
Speaker :
Audio ultra-wideband
Teknologi noise reduction
Acoustic echo cancellation
Teknologi wireless NFC dan Bluetooth
LED untuk streaming speakerphone, mute, hold, dan pairing wireless Bluetooth
Remote Control :
Dockable
Jangkauan 8,5 m/28 kaki
Daya Power :
AC Power adapter with regional plugs
Power cable (3 m / 9.8 ft)
Harga Logitech Group Webcam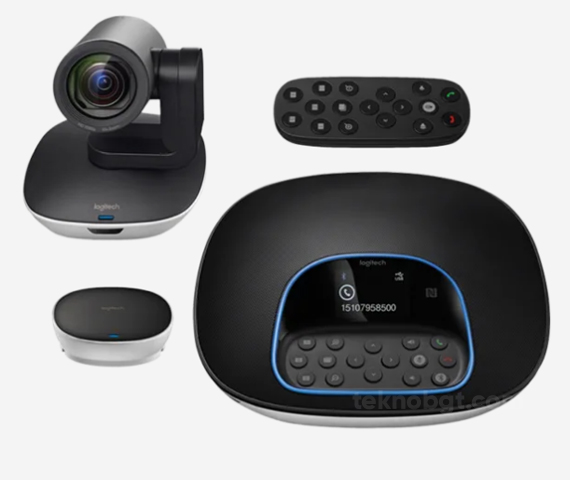 Cek Harga Promo Logitech Group Video Conference Webcam : Disini
Harga terbaru untuk webcam Logitech Group Video Conferencing System adalah sekitar Rp 16.100.000. Kamu juga bisa cek di artikel tentang Rekomendasi Webcam Logitech Terbaik untuk melihat webcam lainnya yang mungkin lebih sesuai dengan yang dibutuhkan.
Video Conferencing | Smooth motorized pan | Tilt and zoom | Controlled from remote or console | 130-degree tilt | 10x lossless HD zoom | 90-degree field of view | Full HD 1080p 30fps | H.264 UVC 1.5 with Scalable Video | Coding (SVC) | Autofocus 5 camera preset | Far-end control (PTZ) of ConferenceCam product | LED to confirm video streaming | Standard tripod thread | Windows 7, 8.1 or 10, Mac OS X 10.7 or higher.